Who we are
Black Dog Antiques is Anaconda's only Antique mall. This upscale retail store hosts unique treasures from more than 30 dealers, offering a creative mix of vintage pieces, antiques, collectibles, home decor and gifts. Wander from room to room and explore the antique oddities that are mixed in with an insane variety of furniture, jewelry, clothing, bottles, mining & railroad memorabilia, traps, tokens & treasurers from Butte & Anaconda's heyday and so much more!

Whether you are a long time collector or decorator or just looking for that special gift for that "someone special", you can find it here.

Friendly, knowledgeable staff sre ready to help you find the treasure you are seeking. We have a large selection of furniture, glassware, artwork, jewelry, clothing and collectibles under one roof.

Several of our dealers offer new items: handmade rugs, benches, mirrors, birdhouses, pillows, craft items, tables, furniture, jewelry and more.

Our rustic room contains: unique railroad items (signs, lights, bells, etc.); snow shoes, antlers, mining items, tokens, Anaconda memorabilia and more.

We now offer Interior Design Services through Black Dog Interiors (a division of Black Dog Antiques).

Design is our passion and we bring that passion to every element of your South West Montana Interior Design project. We add value and style by creating a special relationship with our clients and designing a comfortable and stylish home or commercial space that fits your tastes and budget.







More about us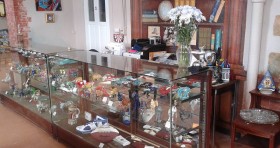 What we do
Black Dog Antiques is an Antique mall featuring an excellent selection from traditional to eclectic (10,000 sq. ft. & 30+ dealers). Antiques, glassware, collectibles, furniture, Butte/Anaconda mining & railroad items, jewelry, clothing, vintage items & much more!

Follow us on Facebook for news and upcoming events.

We offer layaway and have gift certificates.

All prices are firm. We can not offer discounts on any item, unless specified by individual vendor at their booth or on tagged item.

We now offer Interior Design Services through Black Dog Interiors (a division of Black Dog Antiques).

From furniture to fixtures to full makeovers and new builds, we match your wants and needs with our expertise to bring it all together in a beautiful, economic design.

From acquiring a fine antique, unique piece of art or picking out the perfect fabric or furniture pieces, Black Dog Interiors works with interior structure and surface, coordinating all of the elements that make up an interior space; from walls and windows to color, lighting, furnishings and textures.



More about our services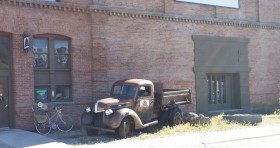 Communicate
Black Dog Antiques & Interiors
1200 East Park Avenue
Anaconda, Montana 59711
blackdogantique@gmail.com
406-563-0478

Store Hours
Sunday 11am - 5pm
Monday 11am - 5pm
Tuesday CLOSED
Wednesday CLOSED
Thursday 11am - 5pm
Friday 11am - 5pm
Saturday 11am - 5pm

www.blackdogantique.com
blackdogantique@gmail.com